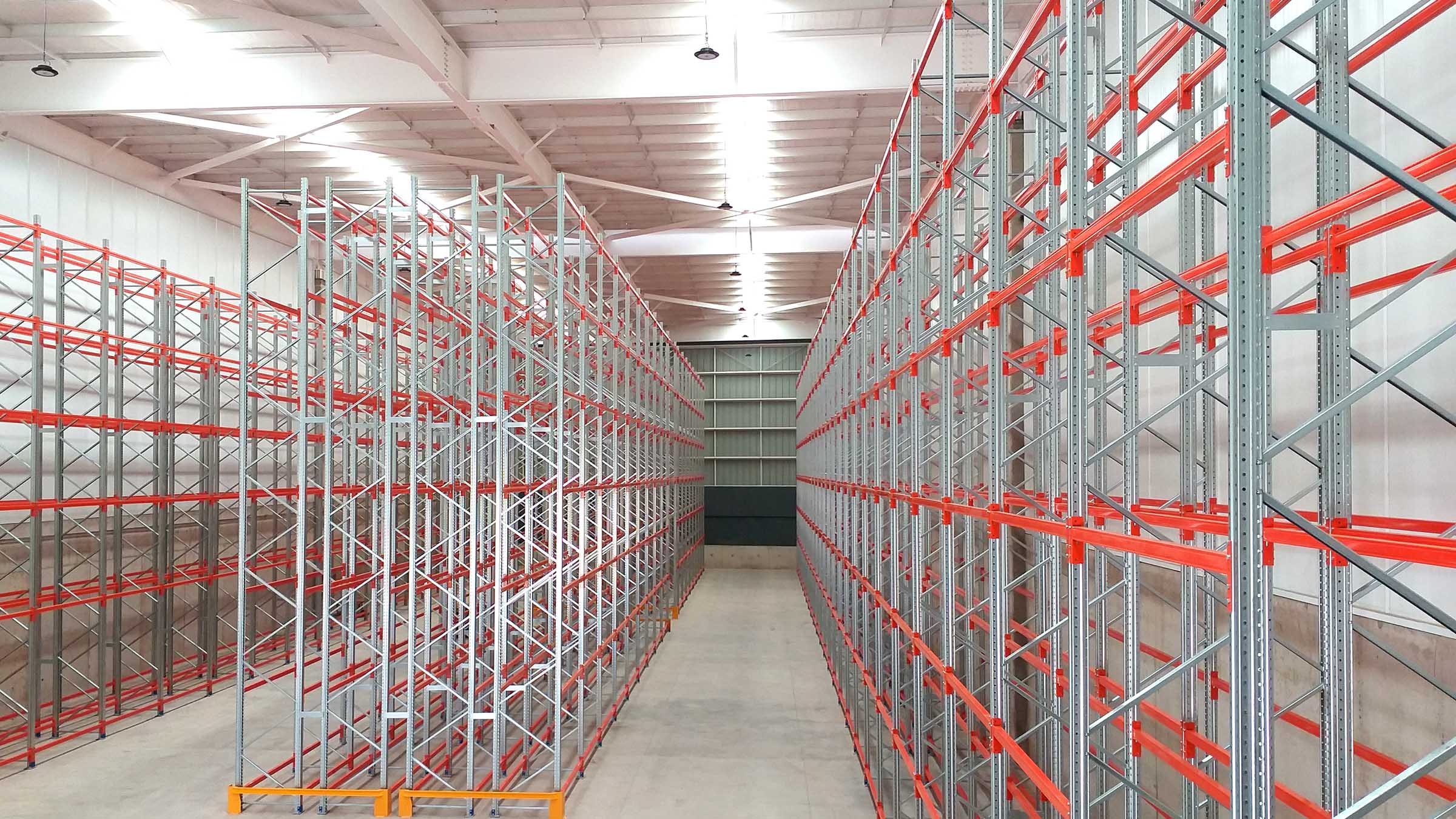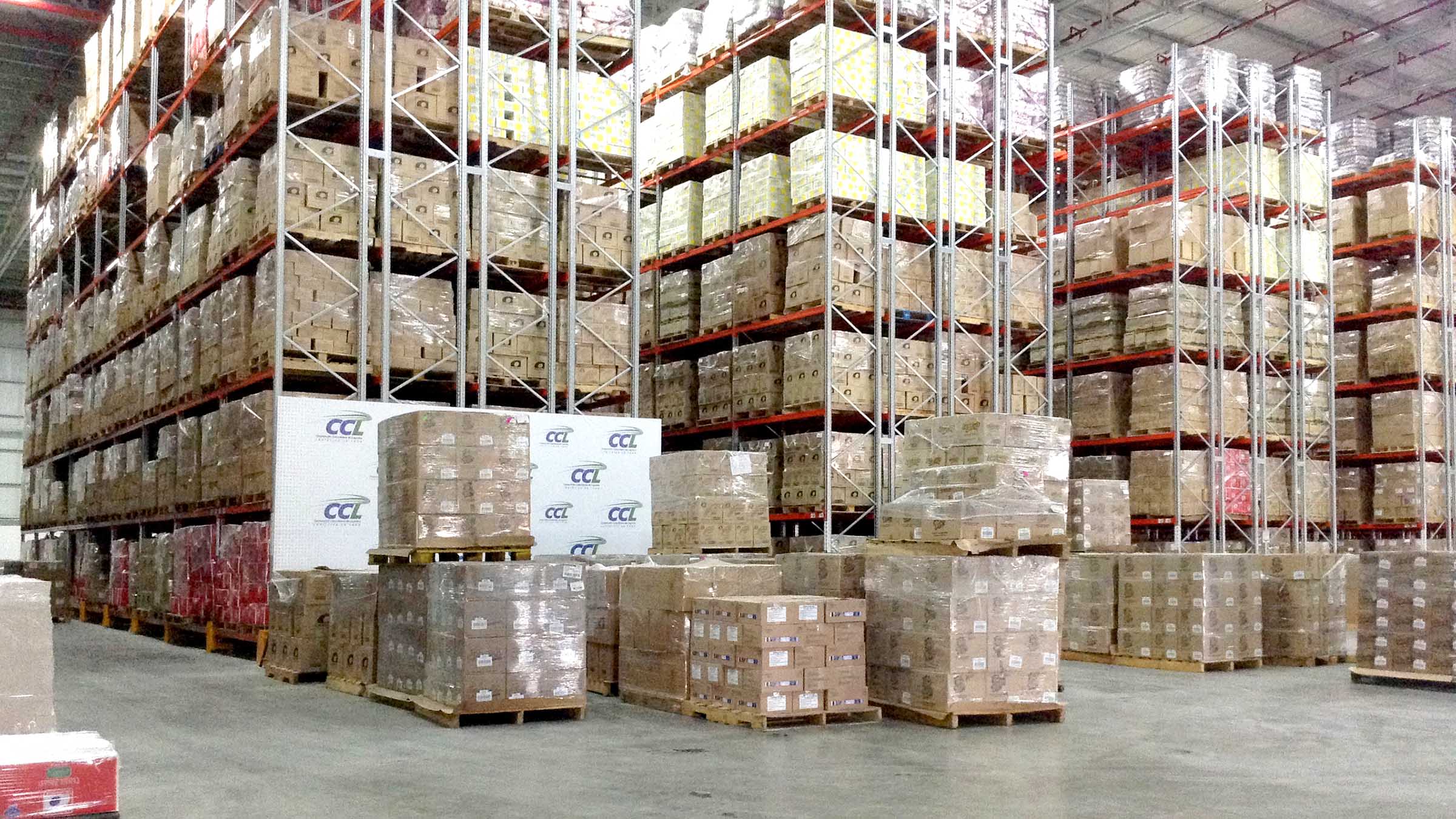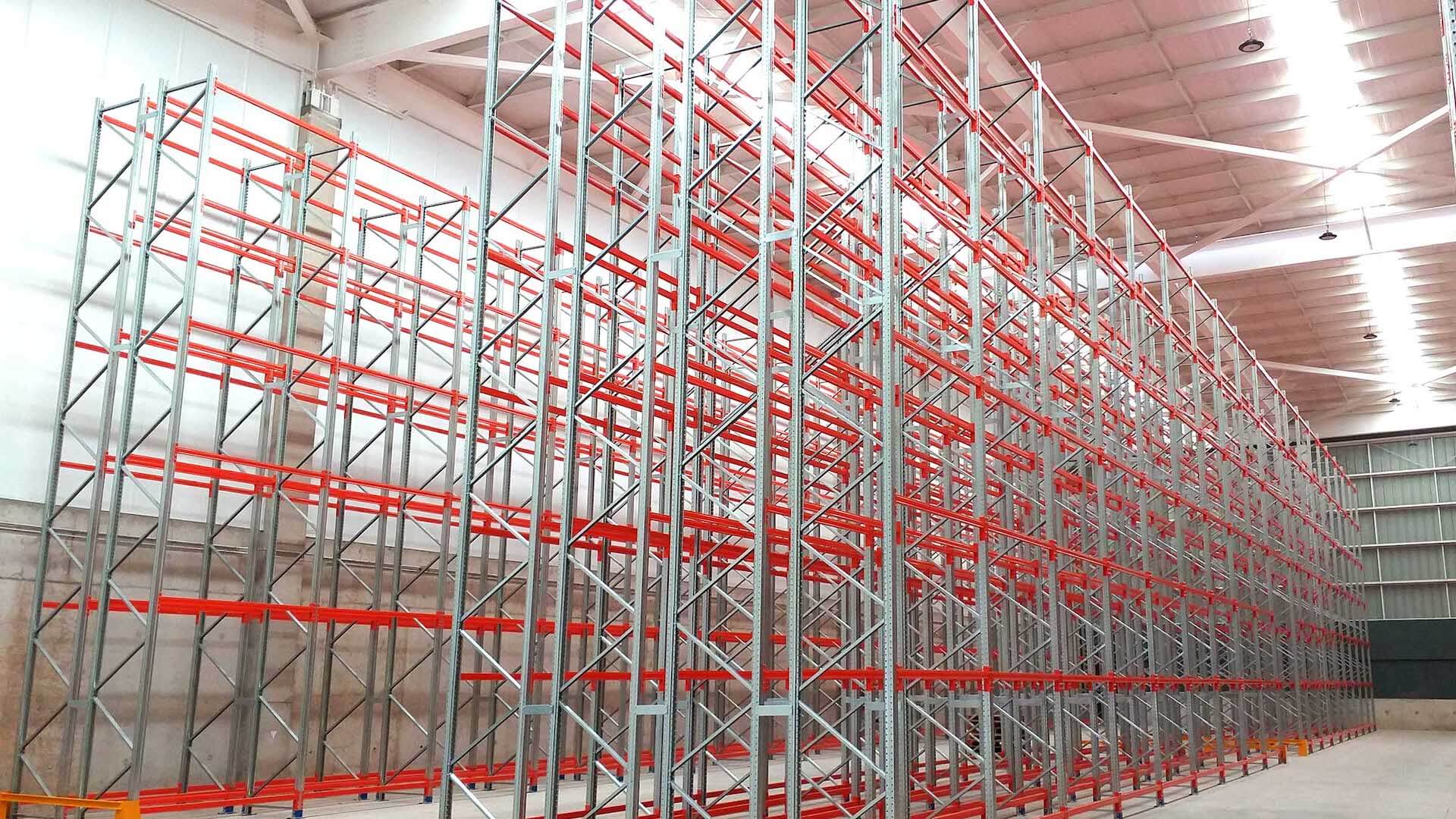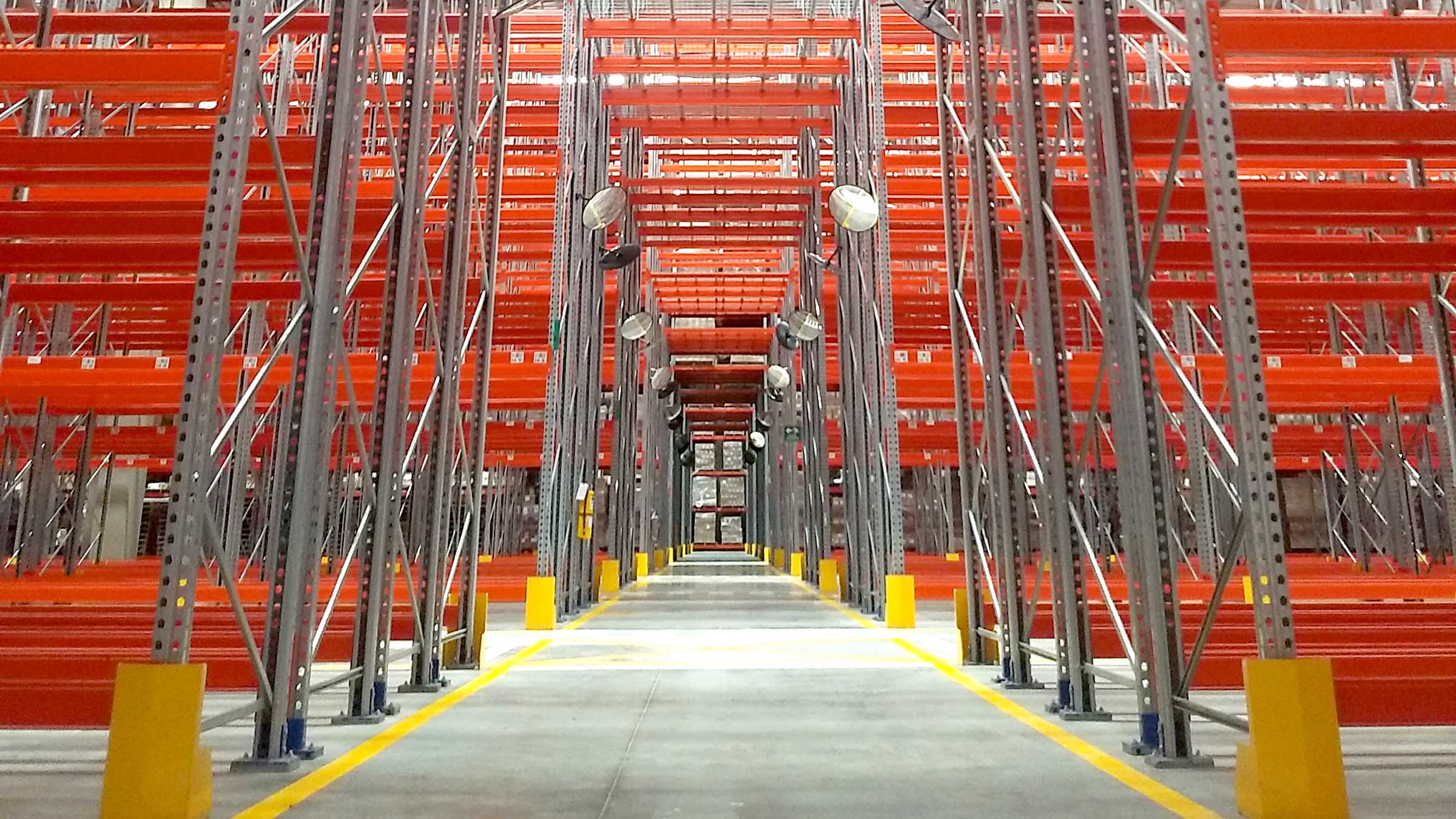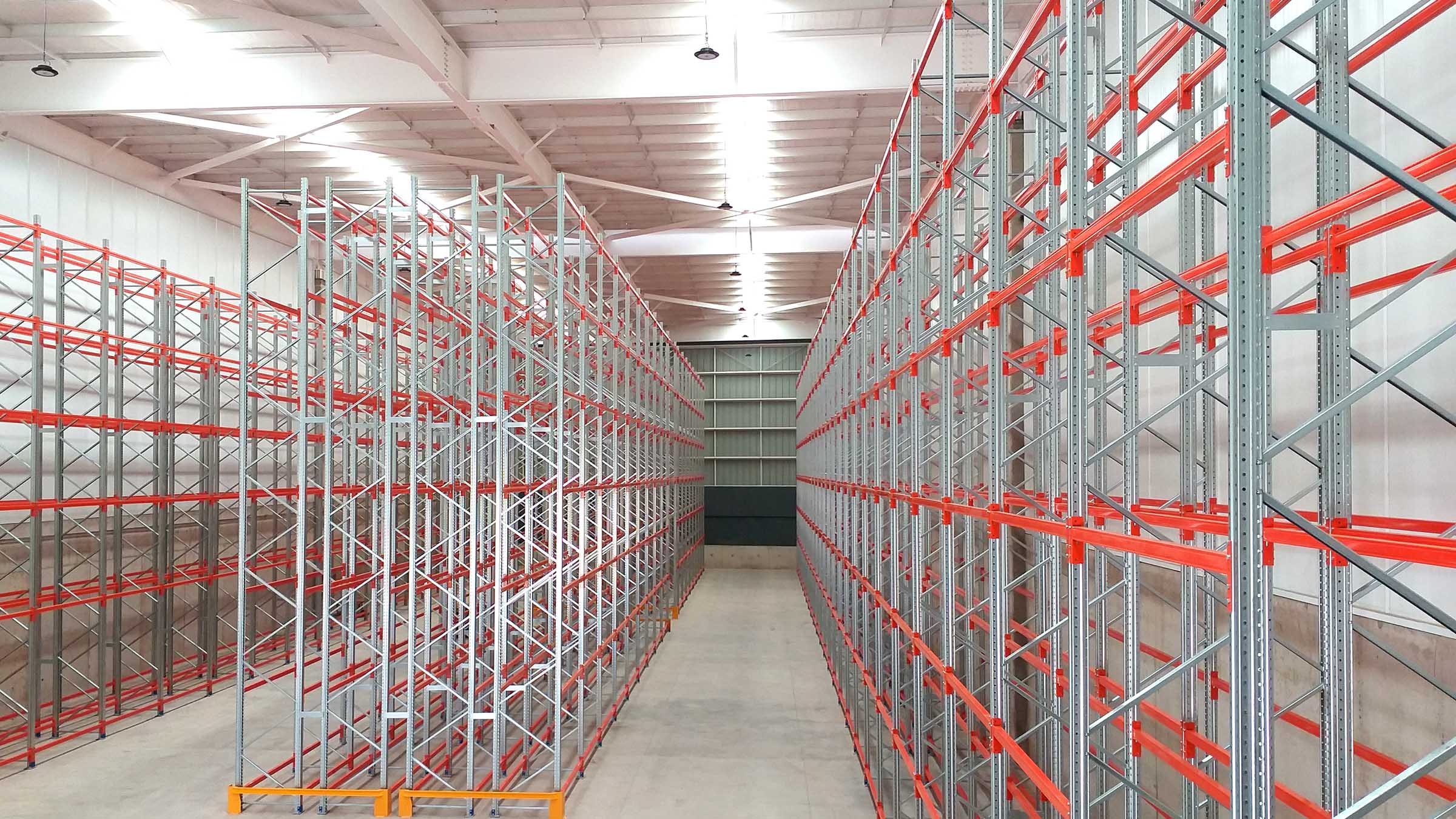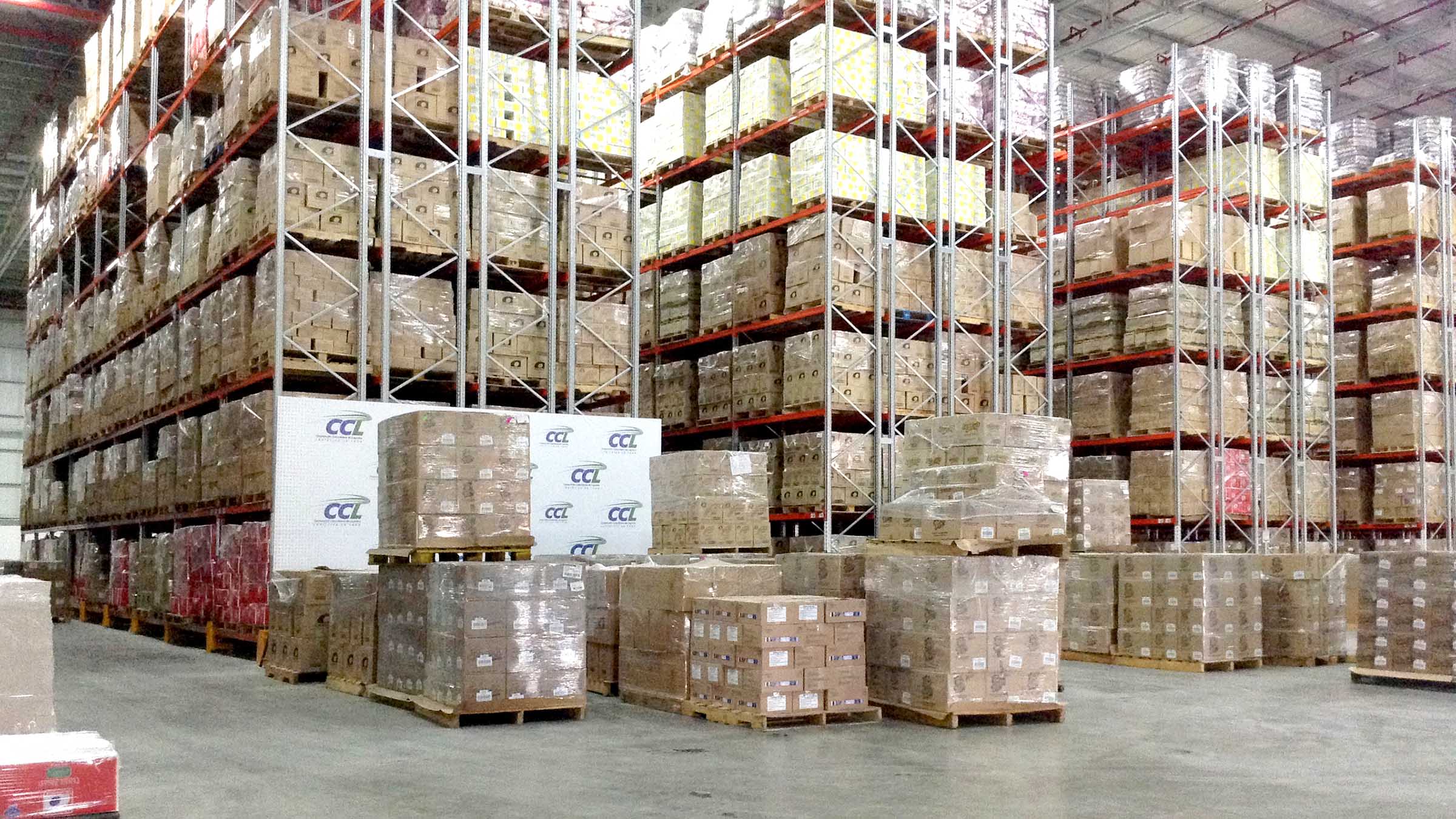 In double deep pallet racking, the unit loads are stored mechanically by forklifts that move along the aisles arranged in parallel to the racking systems.
Description
In this system, the pallets are stored at two depths, thus achieving higher storage density, while access to the pallets remains simple and relatively quick. Unlike adjustable pallet racking, in double deep pallet racking, the operator does not have direct access to all the pallets stored.
Double deep pallet racking must be used with special forklifts prepared for this type of system, equipped with telescopic forks or with an especially designed pantograph mechanism to correctly access the second pallet.
It is a highly efficient and robust system, with easy assembly and regulation of load levels. Furthermore, it is both adjustable pallet racking and racking perfectly adapted to goods of different weight or volume.

Palletised
or heavy loads

Compact system

Fast delivery
times

5 years
warranty*
Double Deep Pallet Racking
Double deep pallet racking systems increase the available storage space, by simply storing the pallets at two depths instead of one as with the adjustable pallet racking system.
The 2 pallets are accessed from the same aisle, reducing the number of aisles by half compared to the adjustable pallet racking system.
In short, double deep pallet racking increases warehouse storage density by reducing aisles and increasing storage locations.
As direct access is only available for front unit loads, this double deep system for managing LIFO (Last in, First out) stock is recommended for storing identical or high rotation products, with more than one pallet per reference.
Advantages of Double Deep Pallet Racking:
Increase in storage capacity compared to adjustable pallet racking.
Access to the pallets continues to be simple and relatively quick, maintaining 50% immediate accessibility and reasonable rotation of goods.
System with a good use of all the available locations, generally above 80-90%.
Intermediate system between an adjustable pallet or selective racking system and a high-density compact system.
LIFO (Last in, First out) system, where the last pallet deposited on the racking will be the first one to leave.
More efficient system, which eliminates unnecessary aisles and increases the use of available space.
Double deep pallet racking systems adapt to any type of unit load.
As with adjustable pallet racking systems, the assembly and disassembly process and replacement of components is quick and simple.
Saves time and effort in the handling of unit loads, generating fast stock rotation.
The design of double deep pallet racking enables its reconfiguration or extension according to the storage needs that arise.
High level of safety thanks to the variety of accessories that it can incorporate.
The uprights and frames of AR Racking's double deep pallet racking systems are pre-galvanised and include an innovative traceability system.
Main applications of Double Deep Racking for Pallets:
Double deep pallet racking systems, due to their similarities to the adjustable pallet racking system, are a very versatile and adaptable solution to a wide range of storage needs.
However, their greater storage capacity and reduced accessibility to the unit loads make their application especially recommended for warehouses with the following characteristics:
Warehouses for products with more than one pallet per special storage unit.
Homogeneous or identical product warehouses.
Warehouses with stock with a medium or long-term useful life. It is not recommended for very perishable products since double deep pallet racking is a LIFO type system.
Warehouses with a high-performance stock management system where restricted access to all the pallets is not a problem.
Warehouses in which a balance is required between the accessibility or selectivity of the unit loads and the increase in storage capacity.
Components and accessories of Double Deep Pallet Racking Systems
Double deep pallet racking has the same structure as adjustable pallet racking, only that its layout is different, so the racking components are the same or very similar.
Double deep storage systems will therefore consist of a simple structure made up of beams, frames and other accessories such as support bars and supports.
This system also has safety elements such as frame and upright protectors, fall-arrest meshes, reinforcements and pallet backstops.
Double Deep Racking Frames
Frames are one of the key elements of double deep pallet racking. They consist of 2 uprights, their diagonal braces, baseplates and fixing elements such as bolts and nuts.
AR Racking has a broad range of frames with a galvanised finish, which means greater durability and resistance to adverse conditions with respect to the painted finish.
AR Racking's uprights and beams also have a pioneering traceability system which immediately identifies their design, composition and origin of the component. Hence the traceability of the product is fully guaranteed.
Galvanised upright
The upright is the key part of the frame and is galvanised. Its dimensions will depend on the storage needs of the installation, to be chosen from the range of upright sections and lengths for double deep pallet racking.
Baseplate
The baseplate is a structural element joined to each upright which distributes the load and makes it possible to secure the structure to the floor.
Welded baseplate
The welded baseplate is designed for frames of greater load and height.
Shim
Component situated under the baseplate to level the storage system. It is an accessory for use in warehouses with uneven floors.
Beams for Pallet Racking
Beams are the horizontal components of double deep pallet racking, which support the unit loads and join the frames together, and which are located parallel to the work aisle. They have connectors which fit into the drill holes of the upright.
The connectors designed by AR Racking create an extremely firm and secure joint system formed between the beam and upright, increasing the load capacity and the duration of the system.
Orange 2C Beam
The orange 2C beam consists of 2 "C" shaped profiles welded together.
Wide variety of lengths, widths and resistances to adapt to each storage need.
Orange Light Beam
Light beams are used in light load storage cases.
These beams can be used for any type of pallet loads or for picking levels.
Hot Dip Galvanised Beam
Hot dip galvanised beams for double deep pallet racking have a zinc bath that improves their corrosion resistance.
They are therefore suitable for very aggressive environments, as is the case in warehouses for chemicals or with very saline environments.
Pre-galvanised standard pin
The safety pin is an individual element that is placed on the connector that joins the beam to the upright to prevent accidental displacement of the beam.
It is an approved component that enhances the safety of the storage system. It is a reliable and simple method that can be inspected with the naked eye.
This pin is compatible with all beams in the AR Racking range. The hot dip galvanised beams use a red pin to enable their control from the floor.
Protection and fall-arrest mesh panel
Metal mesh panels are components used to support the goods of the unit loads on double deep pallet racking.
The rectangular mesh is attached to the support bars giving the structure rigidity. They are placed on the AR beams without the need for extra fixings.
The meshes are also adaptable to picking solutions.
Chipboard panel
Chipboard panels can be used in various ways in AR PAL double deep pallet racking.
They can be placed directly on the beams adding retainers at the ends for better fixing.
In case of a heavy load, add support bars to support the unit load.
Support bars and container supports
TM55 Support Bar for wood
TM55 support bars are designed for being able to place on their upper level 22mm thick wooden boards or chipboard, with the wood flush with the height of the beam.
T451 Support Bar
T451 support bars are horizontal components crossly arranged on the beams and which enable the placement of pallets on them.
They provide greater safety and prevent the potential falling of pallets from the double deep pallet racking
TNP84 Raised Support Bar
The TNP84 "Top hat" raised support bars are designed to simplify the process of the entry of the forks and forklifts under the unit load.
They are used in facilities with unit loads without pallets or bottom runners and are the ideal solution for simplifying their loading and unloading.
Container support
Container supports are an element used to store containers with legs at their ends.
They consist of a set of 2 supports crossly arranged on the beams that allow containers to be easily deposited.
Preventive and safety measures of Double Deep Racking
There are various complementary elements that enhance the safety of the installation, such as pallet backstops, the protection meshes and protectors.
Single and double pallet backstop
They are preventive safety backstops for double deep pallet racking. Their objective is to prevent the pallet from falling due to an inappropriate manoeuvre.
They consist of a metal profile set on top of 2 arms bolted to the sides of the uprights.
The single backstop is used for single runs and the double backstop for double runs.
Kibi pallet backstop
This pallet backstop is crossly arranged on the beams in double runs and its function is to prevent the falling of the pallet in case of an inappropriate manoeuvre with the unit load.
Floor pallet backstop
The single or double floor pallet backstops are fixed to the floor of the warehouse and serve as a warning and retention for the unit loads.
Double Deep pallet racking protectors
Upright protector
Upright protectors are installed on the external uprights of the racking and their function is to protect the installation from the impacts of forklifts.
Corner protector
Corner protectors are an alternative option when it is not possible to use upright protectors.
It is a sheet metal component, fixed to the floor and designed to protect the external uprights.
Upright reinforcement protector
Upright reinforcement protectors are installed in double deep pallet racking systems at a higher height than that of the upright protector.
They can be made of either sheet metal or plastic, and are fixed to the upright.
Side or frame protectors
Side or frame protectors are C-shaped protections located on the outer frames of the double deep pallet racking.
They are joined to the upright protectors to create a more effective protection.
Markers
Markers are rectangular metal plates that are placed on the external parts of the racking, fixed to the upright, to indicate the different aisles of the installation.
Load warning notice
Load warning notices are components fixed in visible places of the installation, generally on the outer frames, and which include information for correct use of the storage system.
Vinyl load label
The vinyl label is an adhesive, placed directly on the double deep pallet racking beams, that indicates the load capacity of each beam.
Double deep pallet racking systems comply with the strictest European safety standards, and also come with AR Racking's quality and innovation guarantee.
5-year quality guarantee
Our confidence in the reliability of our double deep pallet racking solutions means we are able to offer 5-year quality guarantees against all types of manufacturing or hidden defects in the components of the main structure of our systems.
Traceability system
Since 2016, our double deep pallet racking systems have included a component traceability system.
The system consists of an identifying marker, which means knowing and having documented each component from source without needing to have the package label and therefore knowing the exact component, how it was designed or what raw material was used in its manufacture.
100% automated manufacture
The production process of our industrial racking systems is fully automated: it incorporates latest generation profiling machines with continuous cutting process and laser measurement control, welding centres, painting and packaging processes, all fully automated, guaranteeing the highest quality parameters.
Designs in R&D&I Centre
The structures of our storage systems are designed in our technology centre dedicated to R&D&i activities, as well as in collaboration with the advanced engineering projects development area, which allows us to respond appropriately to more demanding logistical requirements.
Tests at Research and Testing Laboratory
At our Research and Testing Laboratory created in collaboration with the University of Mondragón, our technical area continuously tests and analyses products and materials to improve our double deep pallet racking systems.
It also simulates, calculates and researches the efficacy of the geometries, and makes full structural calculations on the behaviour of the systems already installed in different situations.
Double Deep Pallet Racking quality certificates:
ISO 9001: 2008
ISO 18001: 2004
OSHAS 18001: 2007
Welding certificate: UNE EN ISO 3834-2: 2006
Galvanized steel corrosion resistance certificate: UNE EN ISO 14713-1
Galvanized steel reaction to fire: EN 13501-1: 2007
Pallet Racking Quality Certificate
EN 15512
EN 15620
EN 15629
EN 15635
FEM 10208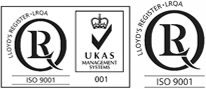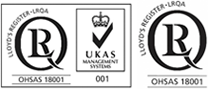 As pallet racking experts with more than 26,000 storage projects implemented in over 60 countries, we are fortunate to have collaborated in the optimisation of the warehouses of major international companies from various sectors: food and beverage, automotive, distribution, electronics, pharmacy and cosmetics, industrial and transport and logistics.
Listed below are some of our double deep pallet racking projects:
CCL – Logistics (Colombia)
NEXSYS – Distribution (Chile)