Warehouse for 10,000 tyres with adjustable and VNA pallet racking for Recambios Frain (Video)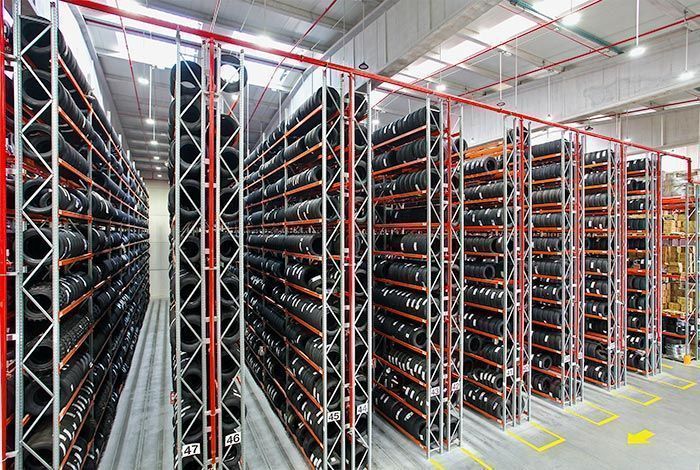 The new warehouse in Lugo (Galicia) of Recambios FRAIN, leader in the spare parts sector for all types of vehicles, has the capacity to store more than 10,000 tyres thanks to the storage systems installed by AR Racking.
The warehouse has, on the one hand, adjustable pallet racking in which not only larger volume tyres are stored stacked on pallets, but also other types of products and accessories marketed by Recambios Frain; and, on the other, Very Narrow Aisle (VNA) pallet racking, where the tyres are stored directly on the structure itself. Overall, more than 10,000 tyres of varying height and width. The racking has been fitted in such a way that it allows both pallet and picking operations.
The combination of both systems provides the customer versatility and adaptability to the different volumes, direct access to the goods as both are selective systems and high-density storage thanks to the reduced width of the aisles with the incorporation of VNA racking. The project was completed in just 30 days from initial contact to the delivery and final assembly of the storage systems.
Recambios Frain started operating in 1992 and has not stopped growing since, thanks to the extensive range of products that it offers the market. According to Francisco Dorado, assistant general manager at the company, "with this new 7,000 m2 warehouse we were looking to improve the organisation and handling agility and increase the number of units of some of our 500,000 references". With a workforce of over 140 employees, Recambios Frain offers technical management services, diagnosis, rental space, industrial supply and B2B e-commerce.
"AR Racking's adjustable pallet racking systems are solutions that can be adapted to all types of products, spaces and operations. They are also easily combinable and adaptable to changing needs", explained Ricardo García, AR Racking Sales Representative. At the Northwest Office located in A Coruña, our sales team provides a personalised service and industrial racking for the storage of all types of loads for companies in Galicia and Asturias.