Rudells becomes AR Racking's strategic partner in Sweden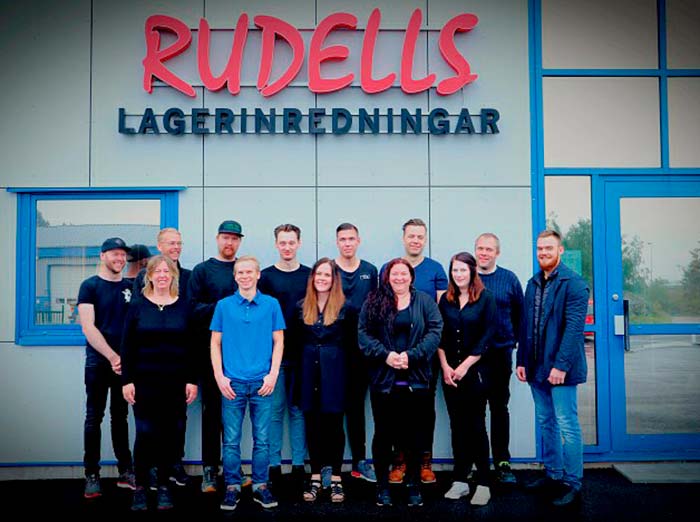 The leading storage systems company AR Racking goes one step further in its commitment to the Swedish market thanks to a strategic partnership with Rudells Lagerinredningar, a company specialized in warehouse equipment.  AR Racking, who has already a strong position in the Danish and Norwegian markets, will see its expansion in the Scandinavian countries strengthened thanks to Rudells, a firm with more than 20 years of experience.
Rudells Lagerinredningar will become a solid local partner fully aligned with AR's strategies and values: innovation, excellence and quality in storage solutions. AR Racking -based in Bizkaia (Spain)- considers its distributors as a true extension of the core of its activity. Rudells fully identifies with AR Racking's commitment to continuously improve its wide range of products, as well as the high competitiveness of its logistics operations that respond effectively to the specific needs of customers.
In Sweden in particular AR Racking will deploy its entire range of products for industrial storage, including the 2750 mm standard length beam. Rudells Lagerinredningar, for its part, can add to its product offer AR Racking's storage systems such as the Adjustable pallet racking, the Drive In pallet racking or the Longspan shelving systems, among others. Thanks to this partnership, Rudells Lagerinredningar will be able to provide industrial storage solutions for heavy loads that meet the strictest European standards.
Highly competitive quality, prices and deadlines
Rudells Lagerinredningar -based in Kungälv, Sweden- has experienced a steady growth since its creation as a family business more than two decades ago. Its efficiency in the treatment of orders has made Rudells a benchmark in the warehouse equipment sector, now also on a large scale. The success of the Swedish company, as explained by its CEO Annelie Rudell, is based on a clear premise: "It is essential to have a full knowledge of the products and services that you offer as a company. In Rudells we have worked meticulously on this aspect since day one, which has allowed us to give a highly satisfactory response to our clients".
Anders Rudells, one of the owners of the firm, states that the partnership with AR Racking will allow Rudells Lagerinredningar to offer high quality products at reasonable prices with almost unrivaled deadlines: "we will be able to deliver the standard products within a week from the factory. which is fantastic". Björn Rudells, another owner, adds: "since the first contacts with AR Racking, we have seen their high degree of professionalism and their detailed knowledge in storage solutions".
Close to the local market's reality
AR Racking, a company whose export index exceeds 85% and has a commercial presence in more than 60 countries, works closely with customers and distributors to provide optimal storage solutions.
Jimmy Andersson, AR Racking's Regional Area Manager for Scandinavia, Eastern Europe and South Africa, explains: "we are really pleased to open this line of collaboration with Rudells, which will allow us a greater penetration in the Scandinavian market. For us at AR Racking it is very important to offer a close service with a concrete knowledge of reality and local needs".