High-density storage solutions for the animal feed specialist Skretting
Skretting, leader in the production and supply of animal feed, commissioned AR Racking to fully optimise the floor space of its new 2,400 m2 warehouse in Cojóbar (Burgos, Spain). The new warehouse is located next to the plant dedicated to the production of feed for aquaculture and attached to the one for the production of pet food.
AR Racking has installed for the Dutch multinational two different storage solutions, both designed for high-density compact storage. On the one hand, the warehouse has the Shuttle System with capacity to store 2,953 europallets of finished product. It is a semi-automated solution that uses motorised pallet shuttles to transport the load autonomously inside the racking. On the other, Drive In compact racking systems are designed to store 594 europallets of auxiliary material.
"Our logistics capacity has been greatly increased with this new installation, which will help consolidate our position as leaders in the sector. We are very happy to have a warehouse equipped to operate in a very agile way and that takes advantage of every square metre", said Skretting's management.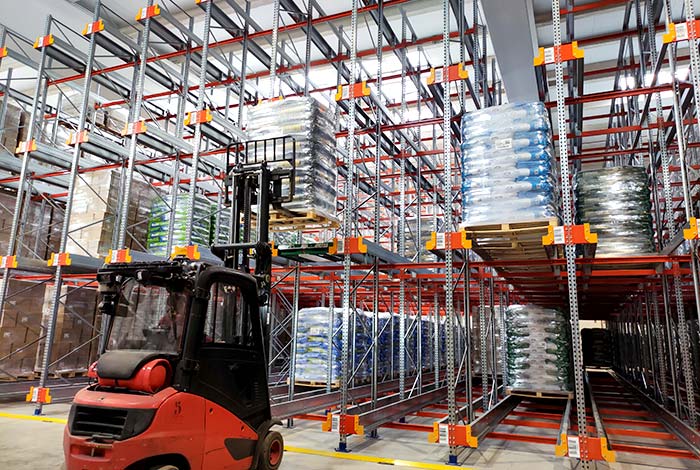 According to Mikel Bilbao, Northern Region Sales Executive at AR Racking, "the semi-automated shuttle solution is ideal for a continuous flow of goods required by Skretting with its finished product. Rotation of auxiliary materials was not a primary factor, so we opted for a solution that would make the most of the space dedicated to those goods with Drive In compact pallet racking systems".
Skretting is a company belonging to the multinational Nutreco, global leader in animal feed. Skretting is present in 18 other countries on all continents. Founded in 1899 and with its headquarters in Stavanger, Norway, its aquaculture feed production capacity reached 2.4 million tonnes in 2020. Skretting Spain manufactures and supplies innovative and sustainable nutritional solutions for the aquaculture and pet industry.