In one of the most remote places on earth, with freezing temperatures and a landscape closer to science fiction than reality, just 1,000 kilometres from the North Pole, we find the so-called Doomsday Vault or Noah's Ark of the 21st century.
This construction, opened in 2008 and located on the Norwegian island of Spitsbergen, 1,000 kilometres from Norway and a further 1,000 from the North Pole, is the largest seed vault in the world, where seeds from all corners of the planet are stored with the objective of maintaining its biodiversity over time.
AR Racking longspan shelving was installed for this very important project, due to its great resistance and long-term durability to such adverse conditions.
The Doomsday Vault
This vault, called at the time by the Norwegian Minister of Agriculture as "the Noah's Ark of agriculture" is built in a 130 m deep silo in a frozen mountain of sandstone, and under very demanding protection, monitoring and storage conditions.
The outer vault is resistant to extreme weather conditions or natural disasters such as earthquakes, tsunamis, solar radiation, volcanic activity, or the increasingly worrying effects of climate change.
Its icy location also avoids refrigeration problems for the samples in case of a power failure, thanks to the layers of permafrost (permanently frozen ice) that surround the structure and turn it into a natural freezer.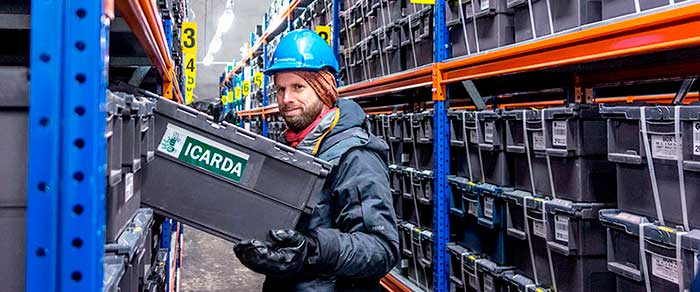 Longspan Shelving
And the Longspan Shelving units installed ensure that the stored seeds will be kept in the best conditions over the years and be able to withstand those extreme temperature conditions without any problem.
All these quality and safety measures have made this construction the largest seed vault in the world with a capacity for up to 2 billion seeds, and in which a "backup" is stored of all the world's seeds to safeguard the biodiversity of the planet in case of any natural or human catastrophe.
At AR Racking we are proud that our racking systems store and protect the seeds that can guarantee the biodiversity of the planet.
Take a look to the following CNN video of this amazing installation with AR Racking Longspan Shelving: