Dark Stores, or Dark Houses, have been gaining prominence in recent years, particularly in companies linked to the e-commerce, food and beverage and pharmaceutical sectors. We review below their characteristics and advantages, and present the most widely used storage systems in these types of warehouses or distribution centres.
Rise of e-commerce
In recent years, consumer habits have changed considerably. Today one of the areas that has evolved the most is e-commerce, since the pandemic led to widespread digitisation with the percentage of online purchases skyrocketing. Consumers want speed and for their orders to take as little time as possible to reach their final destination.
In light of this situation, those logistics centres that have become increasingly prominent are Dark Stores, popularised as a solution in the industry to be able to reach end consumers in faster times.
Dark House: What is it and what does it consist of?
Dark Houses, also called Dark Stores, are distribution centres whose objective is to prepare and send orders online, so customers do not have direct access to the products, but rather make their purchases through a website or mobile app and receive their orders through a home delivery service. Dark Stores allocate all available space to the preparation and sending of online orders and are normally located in areas near consumer centres in order to optimise delivery times and bring the products closer to the end customer. This method is also focused on reducing the cost and problems of last mile delivery.
Dark Houses could be compared to supermarkets, full of products, but with no checkouts or customers, where the only people who wander the aisles are the operators and workers responsible for storage and order preparation tasks as, unlike other methods, Dark Stores are less automated and require more manual work performed by warehouse workers.
Advantages and disadvantages of Dark Houses
Faster deliveries
Unlike adjustable pallet racking warehouses, which are located in difficult to access places, Dark Houses are located in the centre of cities near the end customers. This speeds up order fulfilment and preparation by optimising last mile delivery. Thanks to this, companies can deliver goods to their customers much faster or can sometimes also collect them physically from the Dark Store itself, therefore allowing for high levels of orders and increased revenue.
Greater efficiency
There is a considerable increase in efficiency. Automation, new technologies, and the elimination of queues or schedules enable faster work, resulting in greater efficiency in the order preparation process and customer satisfaction.
Greater storage and inventory capacity
With this technique it is possible to have a larger inventory which allows for greater product availability and variety to offer customers. Likewise, by having a larger inventory online order fulfilment is more efficient, resulting in greater customer satisfaction.
Greater SKU control
With the layout of Dark Houses, focused on storage and the delivery service, SKU management is vastly improved, especially for those businesses that use a high number of SKUs such as small supermarkets and wholesalers. 
Cost reduction
Since they are specifically designed for e-commerce and online sales, the business cost is lower, so there is a greater possibility of a return and higher profit margins for sellers.
However, there are also certain disadvantages:
High online competition
There are many companies and organisations that only sell online, which could cause problems trying to establish oneself in the market due to the wide range of products in the same sector.
Greater investment
For diverse reasons, such as the cost of land in areas near consumer centres, the initial investment of a logistics centre with these characteristics is high and often poses a problem for small businesses.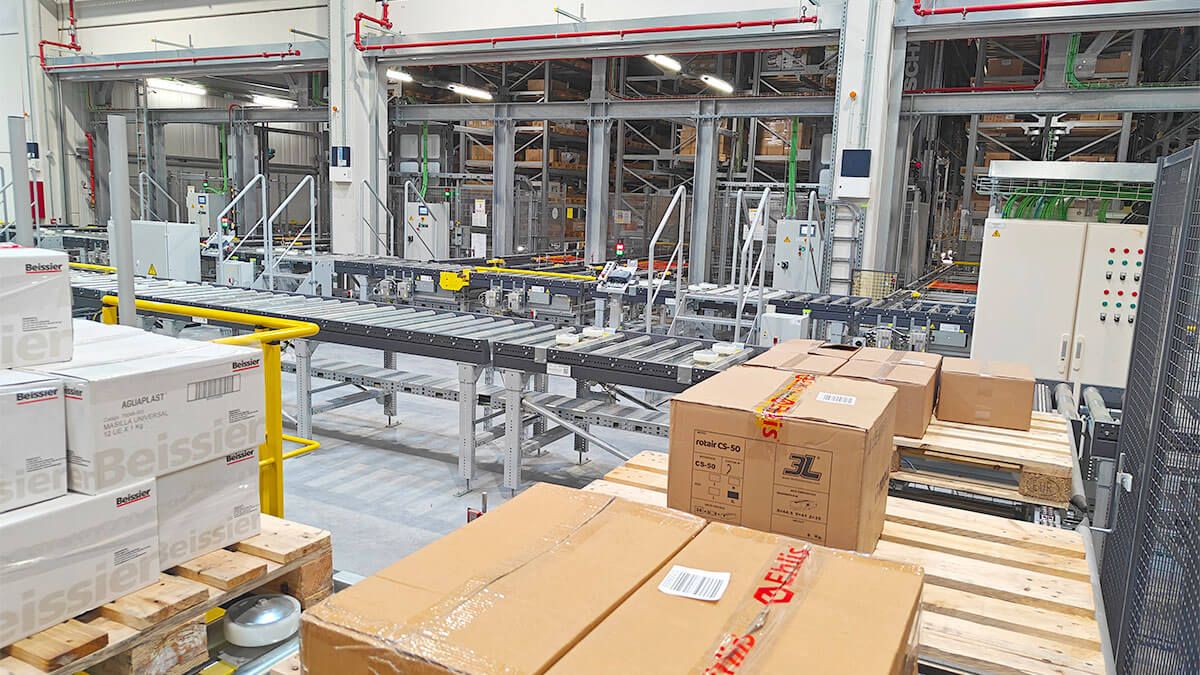 Optimum storage systems for Dark Houses
These spaces, designed exclusively for order preparation and shipment, require storage systems adapted to their characteristics. In this context, it is essential to consider racking designed for manual picking operations and that maximises efficiency and minimises the order preparation time. We review below the most appropriate storage systems for Dark Houses, in order to boost their operability:
This storage system allows direct and immediate access to the medium and light loads stored to facilitate fast order preparation for e-commerce. It is very versatile racking that adapts to all types of loads and favours access to the stored goods.
The Carton Live Storage system enables the high-density storage of cartons and light products, leading to savings in space and improved stock turnover control which favours stock visibility and availability in order to reduce order preparation time.
This system is ideal for exploitation of space at height, since it is designed to store manual loads and fully optimise the warehouse space.
It is an automated storage system intended for the storage of light or small loads with a high stock turnover, designed to increase warehouse productivity and efficiency.
The future of Dark Houses
Currently, innovation is a very important complement when it comes to being competitive. These two order preparation methods are presented as the perfect solution so that companies can make the difference and tackle logistics difficulties and the change in mentality and consumption that have occurred in end customers.
At AR Racking we have a broad catalogue of storage solutions adapted to any space, including our manual picking solutions, ideal for large Dark Houses.
Contact our team if you want personal advice for the design or installation of your warehouse.