Double Deep Pallet Racking in the PEI and Hada International strategic Distribution Centre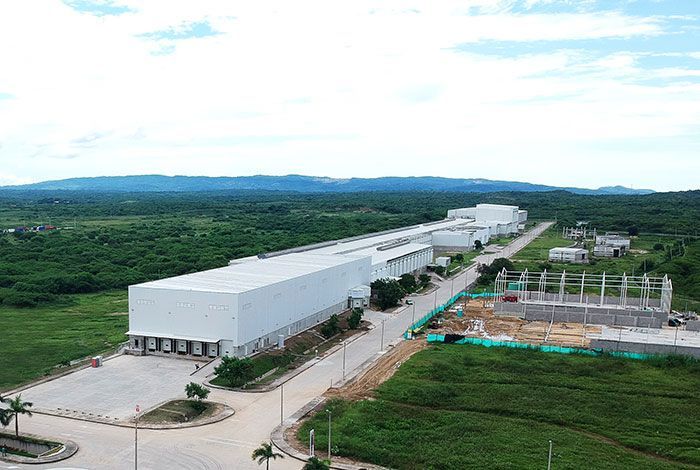 AR Racking, through the property vehicle PEI, has equipped the new distribution centre of the leading soap and personal hygiene products manufacturer Hada International in the La Cayena free zone, near Barranquilla (Colombia). It is a strategic distribution centre for Hada International, which is aiming to increase its market share in the United States to up to 30%. AR Racking has installed an industrial racking system that will enable an agile, rapid and efficient flow of goods.  
AR Racking, after an exhaustive analysis of the customer's needs, installed a solution with 10-metre high double deep pallet racking. The solution is designed to store a total of 4,900 standard pallets with a capacity of 1000 kg per position. The project was completed in 10 weeks. Double deep pallet racking systems offer higher storage density compared to adjustable pallet racking systems, maintaining relatively quick and easy access to the unit loads. It is a more efficient system, which eliminates unnecessary aisles and increases the use of available space.
Together with the distribution centre, Hada International has a production plant that provides 505 direct jobs and around 300 indirect ones. The company exports 4,000 tonnes per month of soap to 22 countries. Its main focus is the US market and manufactures soaps for three of the five main brands in this country. It currently supplies 20% of the US market with its goal being to increase this share to 30%.
PEI, a leading property investment vehicle in the country, whose property portfolio is managed by PEI Asset Management, has played a key role in in the growth of Hada International, as for the past 5 years PEI has been accompanying Hada's expansion and growth plan to serve the domestic and international market.
"For PEI, the priority is to meet its partners' needs. The large volume of exports that Hada International handles required a distribution centre that would operate smoothly and also enable optimum inventory control maintaining a very high turnover. AR Racking, with its storage solutions, has made this possible, being on hand at all times to provide the necessary technical-commercial advice", explained Jairo Corrales, Chairman of PEI Asset Management.
According to Edward Suescún, General Manager of AR Racking Colombia, "we are very satisfied that pioneering Colombian companies such as PEI and Hada trust in AR Racking to continue growing. We are certain that the quality of our racking and the layout of the space we have proposed will boost the competitiveness of the distribution centre and therefore that of our customers too".


PEI, leading property investment vehicle in Colombia
PEI Asset Management currently manages the property assets portfolio of PEI, a leading property investment vehicle for Colombians, valued at COP 7.37 billion; the portfolio consists of 148 properties that represent around 1,09 million m2 of leasable space, located in 30 cities and municipalities throughout the country.
 The diversified vehicle which stands out for its types of assets, geographical location and tenants, consists of the following categories: corporate, logistics and industrial, commercial, specialised and accommodation.
PEI offers a sound investment alternative, with attractive profitability, high liquidity and with the priority of building long-term relationships with its more than 4,600 investors and 1,500 tenants.