Warehouse in record time with our distributor Rackit for the company Bullet Express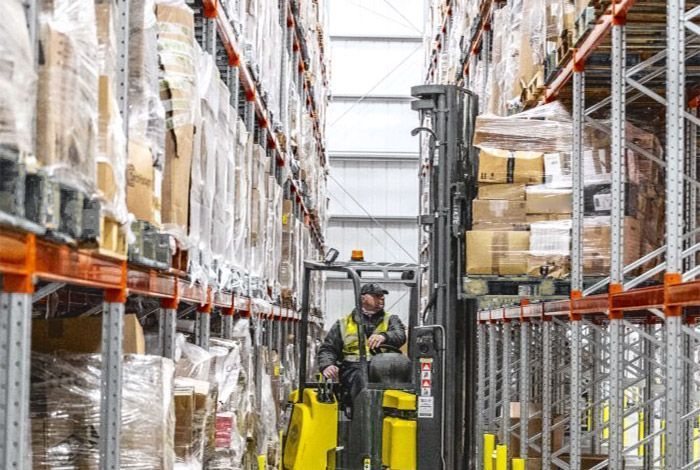 Bullet Express, the Glasgow based international logistics, transport and storage company, has a new 2,800 m2 (30,000 sq ft) warehouse equipped with industrial pallet racking by AR Racking and its strategic distributor Rackit Ltd.
Rackit Ltd and AR Racking have designed a storage solution with narrow aisle pallet racking adapted to Aisle Master forklift trucks. This type of racking is an adaptation of standard adjustable pallet racking, but compacted into a smaller area, creating a high-density storage system. The compaction of the system is generated by the narrowing of the working aisles, which can be reduced to a width of up to 1.5 metres and generate space savings of up to 40%.
The new warehouse has a capacity to store 5,000 pallets which, in turn, means an increase by 25% in the total storage capacity between all Bullet Express centres, reaching 26,000 pallets. Rackit and AR Racking have completed the entire project in a competitive timeframe of 2 months.
Bullet Express's creation of the new storage facility reflects a surge in demand from both existing and new customers for storage services. This is in response to tighter consumer delivery demand following a 40% rise in online shopping due to Covid-19 lockdowns.
David McCutcheon, co-founder and Chief Executive Officer at Bullet Express, said: "Demand from existing and new customers for storage space close to their customers is at unprecedented levels and investing in this high-capacity racking means that we can accommodate their needs, offering an end-to-end service. So much so that the facility is already close to reaching its capacity with new business wins from blue-chip customers in the retail grocery sector. He adds: "I'm full of admiration for the service we've received from AR Racking and Rackit. I'm proud, too, of Bullet Express's own team who have moved heaven and earth to get this installation completed in record time."
"Thanks to our extensive knowledge of the UK business and market, we were able to immediately identify how we could meet Bullet Express' needs. Communication with the customer was very fluid and having a comprehensive storage systems provider such as AR Racking, made it possible for the project to be successfully executed in such a short timeframe," explains Rackit Ltd.