GKN chooses AR Racking's storage solutions for one of its plants in Spain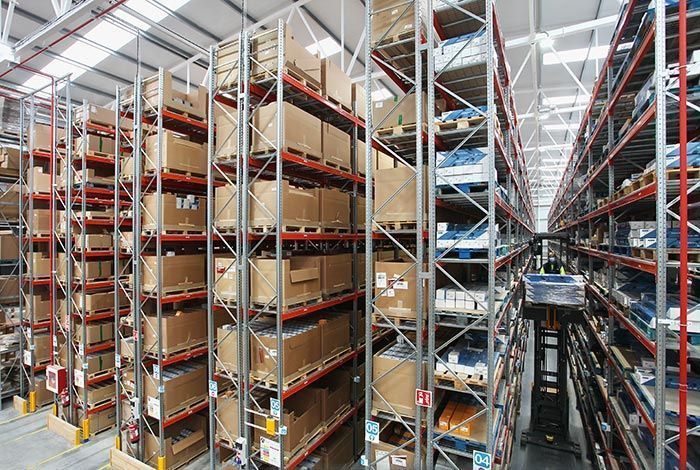 GKN Ayra Servicio, belonging to the global leader in propulsion systems GKN Automotive, has chosen the storage systems specialist AR Racking as the industrial racking supplier for the warehouse at its plant in Carcastillo (Navarre, Spain).
With its headquarters in Birmingham (England), the multinational GKN has made a strategic investment in its factory in Navarre to become a leading plant in spare parts for automotive transmission systems in Europe, and to triple its sales in the short term. GKN therefore turned to AR Racking to install industrial racking to achieve a logistics operation that would maximise warehouse efficiency. 
Combination of storage systems
AR Racking has installed a combination of several storage systems adapted to the different volumes and rotation of products that GKN works with at the Carcastillo plant.
The pallet load will be stored on very narrow aisle (VNA) racking, with a storage capacity of up to 5,696 pallets. This system is an adaptation of the adjustable pallet racking system, but compacted by the narrowing of the work aisles, which creates a high-density storage system that helps to increase the warehouse capacity but without expanding the space. 
For the manual storage of GKN's smaller spare parts and for their handling using picking solutions, AR Racking has installed 2164.5 linear metres of longspan shelving. It is very versatile racking that adapts to all types of unit loads and that facilitates access to products stored directly and immediately. In addition, for long and higher volume loads, AR Racking has implemented a solution with cantilever racking that covers a total of 166.5 linear metres. It is a system that offers excellent goods handling mobility.
AR Racking has also installed a mezzanine floor on two levels for a light shelving warehouse. The mezzanine floor covers a total of 1,809 m2 and is a storage solution that helps increase useful area at height. 
"AR Racking's storage systems meet the strictest European quality standards. What's more, equipping the warehouse just as we had planned proved to be an agile and smooth process", stated Pablo Hernando, GKN Project Manager.
For Xabier Rica, AR Racking Sales Representative and project manager, "we are convinced that GKN will be able to achieve greater competitiveness with the industrial racking installed and therefore improve its logistics operations".