Compact pallet racking for bicycle company in Italy
Dino Bikes, Italian company specialised in the manufacture and sale of bicycles, optimises its new warehouse space in Borgo San Dalmazzo (Piamonte, Italy) with the help of the storage solutions specialists Sistema SRL and AR Racking.
Sistema SRL, AR Racking's distributor in the transalpine country, has designed and installed a solution with 3 blocks of Drive In compact pallet racking and one with adjustable pallet racking for the new 857 m2 warehouse of Dino Bikes. The Drive In compact pallet racking system provides high density which fully optimises the available space and height of the warehouse by reducing the work aisles of the forklift, and it also enables rigorous stock control. For its part, adjustable pallet racking provides more agile warehouse operations because it allows direct and immediate access to the load.
"Being AR Racking's distributors allowed us to complete the project in just 3 weeks, fulfilling the customer's needs and strictly meeting the agreed deadlines", explained Paolo Maistro, head of Sistema SRL, based in Turin. Overall, 2,040 drive in positions and 126 additional positions with the adjustable pallet racking system were achieved, which will boost the capacity to store the more than 90,000 units that Dino Bikes already had at its other warehouse. A commitment to improving its intralogistics to remain one of the leading brands in Italy of bicycles and skateboards in terms of variety and quality.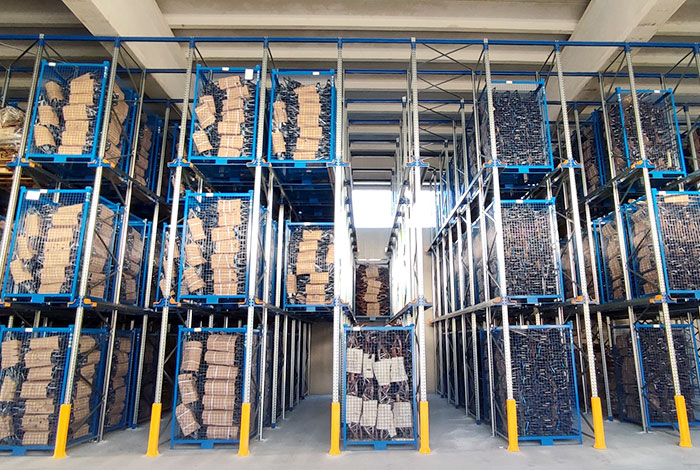 AR Racking has a commercial presence in 60 countries and a wide and consolidated distributor network. "Sistema SRL's efficiency and its broad experience in the sector has made it a valuable partner for AR Racking", said María Cossio, Area Manager for AR Racking Italy.
Dino Bikes is a company founded in 1920, dedicated to the design and sale of bicycles. It is known for its reliability and the meticulous quality of its products, which have substantially contributed to the growth and development of the company that is now universally recognised as the sector leader.