The
Logistics Real Estate sector
has experienced a sharp rise in the years following the crisis and especially since
the outbreak of the coronavirus pandemic
, which has been a challenge in terms of technological adaptation, the ability to
meet faster than ever before required delivery times and logistics.
Logistics real estate, what is it?
Although it is an increasingly popular term, it is useful to explain what it is exactly. Logistics real estate is the
real estate sector that responds to companies' logistics needs
. In other words, logistics real estate involves the
rental and sale of warehouses, distribution centres, flexible spaces and other industrial buildings with storage facilities.
The main actors involved in the logistics real estate processes are the property developer specialised in industrial processes and the logistics customer, which may be the actual manufacturer or logistics operator that will operate the warehouse on behalf of the manufacturer (the operator will be in charge of storage, transport, distribution and other operations linked to the entry and exit of the product, that is, the logistics of the manufacturer or the company that requires its services).
Rise of e-commerce: logistics centres close to urban centres
Before the health crisis broke out, the online sales sector had already been on a significant upward trend. However, the pandemic has accelerated this evolution, placing
online commerce penetration rates at unforeseen levels even in sectors where online sales habits have traditionally been lower
, such as food, household items, sports items and DIY.
Companies, especially now with changing and increasingly demanding deadlines and flexibility requirements, must manage with
maximum efficiency
the first and, in particular,
the last mile, which are key to business success
. Consumers demand almost immediate deliveries due to the change in consumer habits that e-commerce or electronic commerce has established.
Consequently, with the rise of online sales, it is increasingly common for the logistics real estate sector to
demand industrial warehouses close to large urban centres to shorten delivery times
. These are smaller logistics platforms, microhubs very close to cities able to handle a high number of orders in a short time and, generally, with fewer references than in other types of larger warehouses and somewhat further away from urban centres. This has led to the establishment, around cities and within a radius of 20 km, of logistics parks (spaces in which operational centres are grouped based on the integration of various logistics processes) which house these types of warehouses with a very high rotation.
Hyper-efficient warehouses
The main drawback of this high demand for logistics buildings close to urban centres, strategically located and last mile, is
the scarcity and high cost of industrial land
.
For this reason, it is essential that after investment is made that it is an infrastructure that
can be maximised and whose use is total
. Manufacturers and logistics operators also want the processes that can be carried out in the warehouse or distribution centre to be agile and that
stock management
and stored goods find a balance between optimal storage capacity and flexibility in load handling that makes the industrial warehouse an asset of maximum profitability and efficiency.
Some of the most
common storage solutions in these warehouses
are:



Automated warehouses

: they offer a high storage density thanks to fewer work aisles and their ability for growth in height, a competitive advantage currently when the demand for industrial land is booming, which has increased its cost. With these types of warehouses, whether

automated pallet warehouses

or

automated warehouses for cartons

, minimum response times are used, essential in a market where online commerce reigns. Likewise, investors have other alternatives for warehouse automation.



Multitier warehouses

: another alternative for land scarcity that does not require automation and that requires less initial investment are multilevel warehouses. It is a solution for situations with a reduced available area. The main advantages are adaptability to goods and total accessibility, as well as the possibility of incorporating mechanical equipment.


When growth in height is not possible or is limited, another very frequent alternative is the installation of
compact systems
. Or rather, implementing industrial racking in which the maximum use of the area instead of immediate access to the unit loads will be prioritised.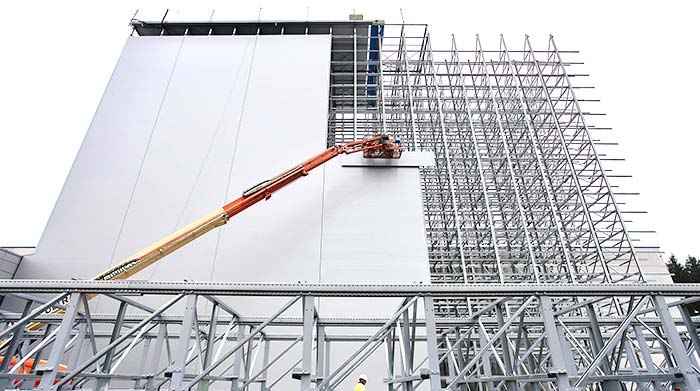 Big box warehouses that supply last mile warehouses
In parallel to the increase in demand for warehouses close to urban centres that adapt to the characteristics of the electronic market and current consumer habits, there are increasingly more operations in the logistics real estate sector of companies that require
XXL or big box warehouses
. These are
logistics facilities of thousands of square metres with a lot of storage capacity
, a high level of connectivity to handle large volumes of goods, an
extensive warehouse entrance area
and which supply the last mile warehouses for e-commerce previously mentioned.
For logistics operators and manufacturers, it is essential to have spacious warehouses that are sufficiently adaptable and scalable for short and medium-term challenges. As a result, it is increasingly common to see
turnkey projects
in the logistics real estate sector.
Cold storage breaks into logistics real estate
With the huge increase in online sales in the food sector,
cold storage
is
currently experiencing high demand
. Perishable and delicate products
such as medicines
require special storage conditions so that they can be stored, preserved and transported in such a way that they reach the end customer in optimal conditions for their consumption and also meet the very short delivery times that have led to electronic commerce.
If you need to equip your logistics warehouse optimising the time and space available, do not hesitate to

contact our team here

.